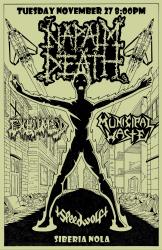 Municipal Waste | Napalm Death | Exhumed | Speedwolf
New Orleans, LA
Time: 9:00pm Day: Tuesday Doors: 8:00pm Ages: 18+ Ages
This Event Has Ended
Municipal Waste
Municipal Waste is a
crossover thrash
band from Richmond, Virginia formed in 2001. They are known for their loud, drunken, party atmosphere and rowdy show attendees, and also for their humorous thrash oriented parody song titles. Occasionally, they have been known to play unscheduled shows late at night. Municipal Waste are a crucial element of Richmond culture, and have four albums under their bullet belts, including 2012's The Fatal Feast.
Read…
Napalm Death

Napalm Death is a mince grindcore / death metal band from Birmingham, England. The band was formed in the village of Meriden near Birmingham, England in 1981 by Nicholas Bullen and Miles Ratledge. Although other groups had previously played fast and aggressive music, Napalm Death is credited with defining the Grindcore genre through its fusion of punk and metal musical structures, aggressive playing, fast tempos, and deep guttural vocals. The group coined the term 'Grind' to describe the…
Exhumed

Exhumed is a Grindcore / Death Metal band from San Jose, CA. Formed in 1991, when sole remaining founding member Matt Harvey was at the tender age of 15, Exhumed spent much of the ensuing decade hacking its way through numerous demos, split CDs, and EPs. The band finally recorded their debut album, the genre-(re)defining and critic-repulsing "Gore Metal" in 1998. The album crystallized the old-school Death Metal meets full-on Grindcore sound forged during the recordings of their…
Speedwolf
Speedwolf is a thrash/speed metal band from Denver, CO. They play an interesting blend of Motörhead style metal and hardcore punk with rock and roll influence.
Speedwolf on Last.fm
.
User-contributed text is available under the Creative Commons By-SA License and may also be available under the GNU FDL.