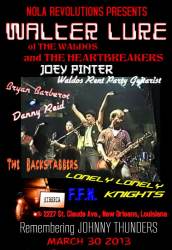 WALTER LURE of the HEARTBREAKERS and the WALDOS with Joey Pinter (Waldos Rent Party guitarist) | The Backstabbers | F.F.N. | Lonely Lonely Knights | DJ Matty
New Orleans, LA
Time: 10:00pm Day: Saturday Doors: 9:00pm Ages: 18+ Ages Price: $10
This Event Has Ended
One town that's in for a special treat on March 30th, is NEW ORLEANS, when the legendary, surviving WALDOS come to town to entertain their faithful punknroll constituency and commune with the ghosts of J.T. and Willie Deville, in the sleazy big easy. If you got rocknroll amigos in N'Awlins, tell 'em all about it. This will be one historically significant, wildass barn burner, party lights shindig, they don't wanna miss. Hard-knocks Joey Pinter wrote the book on gutter grace and is a shining example of the unenviable, but utterly admirable, difference between vapid, manufactured celebrity and purist punk individualist. He ain't no manufactured emobot. He is a lived it, seen it all, twice, rock STAR. There's nothing more righteous than an outlaw soulman who overcomes all the odds, endures all, and stays true to himself. JOEY PINTER is the 4-Real essence of rugged independence and Max's Kansas City cool. He's currently hard at work in the recording studio with Bomp! power-pop personality, Arthur Alexander, who is producing his hotly anticipated solo debut. You already know and love charismatic Heartbreaker, Walter Lure. Together, they are an essential combination. Catch 'em while they're still alive!

The Waldos on Facebook

http://veglam.com/2013/01/21/international-rocknroll-overthrow-by-anguish-young/

https://www.facebook.com/theWALDOS?ref=hl

https://www.facebook.com/JoeyPinterRockandRoll?ref=hl

THE BACKSTABBERS
(NOLA punk from back in the day)

F.F.N
(From Fucking Nowhere - Florida punk rock-n-roll)
http://www.reverbnation.com/ffn

with NOLA garage rock-n-rollers LONELY LONELY KNIGHTS

and DJ MATTY playing old punk vinyl!!