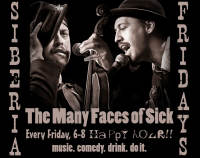 Dr. Sick Happy Hour
New Orleans, LA
Time: 6:00pm Day: Friday Ages: All Ages Price: FREE
This Event Has Ended
Sick is a seasoned multi-instrumentalist who sings from the gut and writes catchy, witty, often deranged songs ranging in styles from bluegrass to klezmer, comedy to politics, Elfman to Waits. He's

sometimes a Burlesque announcer, sometimes a side show masochist, and always a dedicated showman. One can expect fierce fiddle, gritty guitar, and a few home-made curiosities scattered about

the stage that he picks seemingly at random to accompany original songs, awkward covers, and occasionally pieces composed live on stage.