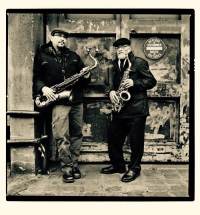 *** CANCELED ***
Marshall Allen (Sun Ra Arkestra) + James Harrar: Soloriens Native Unity Quartet | TBA
New Orleans, LA
Time: 10:00pm Day: Monday Doors: 9:00pm Ages: 18+ Ages Price: $12
This Event Has Ended
Doors @ 9PM - $12 Advance

Marshall Allen
Now celebrating 25 years of this ambitious collaboration with Marshall Allen, leader of The Sun Ra Arkestra, filmmaker/musician James Harrar sees his Soloriens project as a constantly evolving creative and spiritual learning center.

Soloriens is a performance ritual with a live musical exploration of imagery and spoken word elements. With James Harrar (tenor sax, EVI, bulbul tarang, reeds, voice and effects), Marshall Allen (alto sax, flute, keyboard, EVI and effects), Maxwell Boecker on bass and Kenito Murray on drums.

In addition to exploring sound and image within Soloriens, Harrar is investigating aspects of his Tiwa/Isleta Pueblo Native American identity. He believes that language is the essential lifeblood of any culture. Unfortunately, many Southwestern Native American tribes are losing the very soul of their heritage. Mythical Tiwa stories and mystic chants are presented in the Tiwa (Tuei) dialect. This should be a first in Birmingham!

Any incarnation of Soloriens reveals a group of Artists with a special rapport, raising each other's creative energies to pay respect to a pure form of spontaneous performance, possessing a penchant for psychedelic rock, outre ethnological improvisations and Marshall Allen approved jazzy stomps of which these performances deliver in equal measure.

Marshall Belford Allen (born May 25, 1924) is an American free jazz and avant-garde jazz alto saxophone player. He also performs on flute, oboe, piccolo, and EVI (an electronic valve instrument invented by Nyle Steiner, made by Crumar).

Allen is best known for his work with eccentric keyboardist/bandleader Sun Ra, having recorded and performed mostly in this context since the late 1950s, and having led Sun Ra's Arkestra since 1993.

Critic Jason Ankeny describes Marshall as "one of the most distinctive and original saxophonists of the postwar era."
James Harrar
James Harrar has been crafting densely lyrical film-poems since the late 1980's exhibiting at prestigious venues all over the world such as the Museum of Modern Art-New York, Anthology Film Archives, The Andy Warhol Museum and Yamaguchi Center for Art & Media to name a few.

His films are personal in a very direct and explicit sense. In an intimate form, Harrar attempts to imprint thoughts, dreams and conceptual ideas onto the open-minded viewer while examining the possibilities of perception.

As a musician, Harrar has worked in his avant-garde music/media project, CINEMA SOLORIENS, where for 25 years has had Marshall Allen of the Sun Ra Arkestra in close collaboration on tour and in the studio.

He plays tenor sax, EVI (Akai and Crumar), ethnic reeds, hulusi, electric bulbul tarang, electronics, voice and effects.